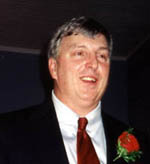 Brian Baine Riley, Lt USMC (ret)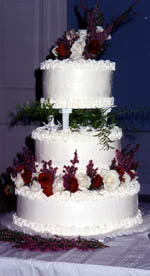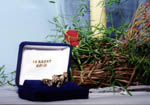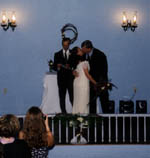 On Saturday, the 13th of November 1999, the one year anniversary of our first date and, coincidentally, the opening day of deer season here in Vermont (there's got to be a lesson here somewhere!), Brian and Sara formalized their vows to cherish and love each other for the rest of their lives. The ceremony took place in the historic old (1851) Town Hall for Underhill, Vermont, located in Underhill Center.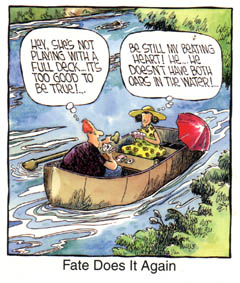 By way on introduction to us, we offer this card sent by Sara to Brian early in the courtship, when, though we didn't so much as say it, we both knew this was it. Though beset with the fears of all 'second time around' couples we both forged ahead. Upon receiving the card Brian's reply was something simple, along the lines of "Yup, that's us!" (Cartoon was on a card from the American Greetings Company, by Dave Coverly - "Speed Bump" C.1998 by Creators Syndicate Inc.)
About eighty friends and relatives gathered at eleven in the morning to help Brian and Sara to celebrate this happy occasion.
The picture at the top shows Justice of the Peace, Henry Clark, former Marine, inventor, entrepreneur, and local curmudgeon, reading the wedding vows written by A.G. Allen of Granville, Vermont in 1865 for his daughter's wedding. They were published by Dennis Hall in the first volume of his Vermont History Rediscovered series, Vermont Quarterly Gazetteer No. I, Addison County; Dennis graciously gave us permission for us to use them and reprint them here. The vows were originally written in rhyming verse. They were slightly modified by Sara.
After the ceremony Brian and Sara face the assembled multitude as man and wife for the first time.
The wedding cake was the creation of Mary Ellen Livingstone she can be contacted by email via maryellen@essenceofvermont.com. A picture of Brian and Sara cutting the cake. We did a mix of catered coldcuts and Swedish meatballs and potluck from the guests. Our guests outdid themselves. We had lasagna, chicken pie, mini-burritos, casseroles in various forms. Sara's mother made kugel and brought breads and rolls from a kosher deli in Springfield, Mass. We had salads in a half dozen different forms. We had pastries, chocolate cake, brownies, chocolate chip cookies, cheesecake, some exotic forms of chocolate that would have Weight Watchers in heart failure.
The matching Irish Claddagh rings we chose to be our bands were crafted by my long time friend, Cape Cod based gold and silversmith, Brian Faunce, (448 Main Street, Hyannis, Mass 02601, 508.775.1373).
The hardworking wedding photographer, DJ McGonagle, a former student of mine, was photographed by his father while photographing us.
The unsung heroines of this whole production were Sara's friends Krissie Gallant and Nancy Greenwood, who ramrodded the setup and management of food for the whole affair. Without them we both would have had a nervous breakdown ... ladies, mere thanks is simply not enough, but will have to do for now.
Also in attendance and helping before during and after was part of Brian's 'gang' from MMU et al. Brien McGonagle, Rory McGonagle, Adam Browne, Sara Maxfield, and John Gados. Picture to the right is John, Sara, Rory, and Adam.
The lovely Sara and her two children, Tracy Thigpen and Adam Thigpen.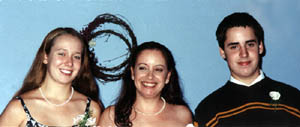 ---
Stay tuned for more pictures as we get them and scan them in ... thanks for stopping by and sharing our special day ...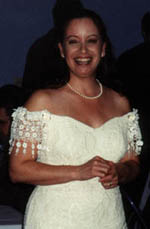 Sara Lee Riley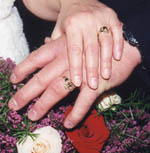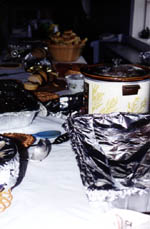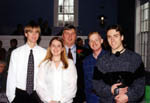 ---

A MARRIAGE CEREMONY VERSIFIED
In Granville, June 5,
By A. G. Allen, Esq.,
Mr. Edgar II. Chadwick and Miss Adelia A. Allen
Both of Granville

You, sir, take the lady you hold by the hand,

As your own lawful wife, by the laws of the land;

Engaging to love her, and give her your aid,

When health shall attend her, or sickness invade;

To provide and support her, you covenant, sir;

To forsake other lovers and cleave unto her;

And do as God's law and the statutes advise,

Till God send his message to sever these ties.



And you, lady, take him whom you hold by the hand,

To be your own husband, by the laws of the land;

Engaging to cherish, to honor and love

Him in sickness and health, through what comes from above.

His pleasures and sorrows you promise to share,

As Godıs holy law and the statutes declare;

Till Death, as a messenger sent from the skies,

Shall sunder you from him, and sever these ties.



To assent to these pledges, on you I now call,

That they may be known and acknowledged by all;

If each of you now will consent to these bands,

You will here make it known by disjoining your hands.

Now I, by authority vested in me,

Declare that you husband and wife shall now be,

And call on all present, who purposely came,

And God, your Creator, to witness the same.

                   A. G. Allen